posted June 26, 2006 08:56 PM



---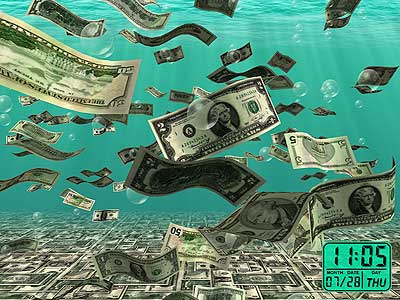 By ROSE PALAZZOLO
June 26, 2006 — The rich don't give their money away like they used to.
Unlike their predecessors, today's multimillionaires don't wait until retirement to donate much of their vast wealth, and they are much more involved in how their money is put to good use.
Since the dot-com and tech boom of the late 1990s, philanthropy has become a younger industry. With this younger demographic has come a whole different culture of philanthropy, according to experts.
"What has happened in the last 10 years or so since the dot-com boom is you have young entrepreneurs who have created a lot of wealth and created foundations and philanthropies at a much younger age and they have gotten much more involved in their foundations," said Todd Cohen, editor of the Philanthropy Journal.
Partly because it is no simple task to figure out how to spend $1 billion, many of today's megadonors are not content to simply write the checks.
"The biggest thing that holds people back from deciding how to give their wealth is that they worry about what the money will be used for if they donate it to an organization," said Peter Karoff, chairman and founder of the Philanthropic Initiative.
While industry titans like J.D. Rockefeller and Henry Ford created charitable foundations at the ends of their careers, Cohen says that Bill Gates and other baby boomers and even Generation X-ers who made their fortunes young have started foundations at a much younger age.
This trend has also been affected by a skepticism born out of the 1970s and 1980s when high-profile institutions were in the news for not spending their money as they had pledged to, Karoff said.
"Some people feel they are stewards of their money," Karoff said. "It's what Andrew Carnegie meant when he said, 'A rich man who dies is a bad person.'"
Carnegie, called in his era the "Richest Man in the World," started several philanthropic institutes of his own.
He also wrote "The Gospel of Wealth," an essay about the perils of allowing large sums to be passed on to persons or organizations ill-equipped mentally or emotionally to cope with them.
"The biggest thing that holds people back from donating their money is worrying that the money will be used properly," Karoff said.
Between 1990 and 2001, the number of philanthropic foundations in the United States nearly doubled, growing from 32,401 to 61,810, according to Forbes magazine.
There are greater numbers of "megarich" Americans than ever before, says Forbes — more than 2,500 households with a net worth exceeding $100 million and more than 270 billionaires.
In 2003, Business Week tracked 50 philanthropists who had each given or pledged at least $95 million in the previous five years — a combined total of more than $47 billion.
These philanthropists, like other high wealth individuals today, are more likely to be self-made, most commonly through entrepreneurial interests, small-business ownership, investments or earned income.
"Younger people like Gates are getting involved on a much higher level, and they are not just interested in making a gift to a university and getting their name on a building," Karoff said. "They want to see their money work and see that it goes to the places they intend."
Pierre Omidyar, founder of eBay, made a similar decision.
He launched the Omidyar Network in 2004 with his wife, Pam, after leaving the corporate world.
The group funds for-profits and non-profits that "promote equal access to information, tools and opportunities; connections around shared interests; and a sense of ownership for participants."
Warren Buffett has decided to donate $37 billion to several foundations headed by his children. Five-sixths of that money will go to The Bill & Melinda Gates Foundation — specializing in the search for cures for diseases plaguing impoverished nations — because of Gates' personal involvement.
Buffett's money came with a significant catch — the celebrated investment guru said he wanted all his money to be distributed in the year it was donated — not added to the foundation's assets for future giving.
Buffett's first annual donation to Gates is expected to be about $1.5 billion. Since the foundation gave away $1.36 billion in 2005, Buffett's commitment would effectively double its spending.
Buffett's gift is "really significant," not just for its size but for its potential to encourage other giving, said Diana Aviv, president and CEO of Independent Sector, a non-profit coalition of about 550 charities, foundations and corporate giving programs that includes The Gates Foundation.
"I'm sure there are lots of young, wealthy individuals who have made their fortunes and who are watching this very carefully," she told The Associated Press. "These business leaders are icons."
Putting their name behind their philanthropic institutions puts pressure on these millionaires to act responsibly.
Foundations like the Soros and Ford Foundations make the namesakes personally responsible to where the money goes, Karoff said.
"Part of why this kind of philanthropy is happening is because of what is not in the culture," Karoff said.
"Our unbridled consumerism and the hubris of the American culture is what has really motivated some people to take the time and use their money carefully," he said. "It is potentially terrific [but] it is all very new. These resources have not been around long enough to really know how effective they are."
IP: Logged