Aya_and_baby
Knowflake

Posts: 886
From: Space (and sometimes Antwerp)
Registered: Apr 2009

posted June 26, 2011 04:32 PM



---
Well, this could be an interesting topic! It's something that's been on my mind for the last few months, while I was getting increasingly anxious about my toddler finally talking. I wondered if there was anything in his chart that could explain this "delay" (relatively speaking of course, because children can start talking until they're 2 years old, anything only after that is considered out of the ordinary, these days - but I am talking in terms of how long it took his parents to talk, and I was 9 months old and extremely early according to my mother and my ex... I don't know, even now he still doesn't want to tell me. Our son is now 19 months old so you can imagine why I'm getting anxious

) and every time I think about that, I'm reminded of an anecdote an ex colleague of mine once told me.

She's the mother of 2 children, one of which - the youngest, a daughter - was born only a few weeks before myself. Since my Mercury is 5 degrees Sagittarius, I imagine she would have her Mercury around the same position that my son has, around 25 degrees Scorpio. And according to my former colleague, her daughter was very late with talking, but was so precise about her language that she couldn't help but correct her older brother every time he mispronounced something (he, incidentally, is a Sagittarius sun, and born two years before his little sister, but I don't remember the date of birth. From the sound of it - former colleague did love to talk about her son, at some point I actually suspected her of trying to get me interested so she could hook us up! LOL! - he has quite a bit of Sagittarius) ... and she made sure she never made any mistakes herself. And truly, every time I'm faced with the fact that my son does have a great understanding of the language I speak to him, but has a vocabulary of little more than 3 (half-)words, I'm reminded of that story.

It often makes me wonder if a Scorpio Mercury is very meticulous about their words and will not start to talk until he or she finds that their pronunciation is perfect.

As for myself, to this day I still tend to mispronounce words in both Dutch and English, and I sometimes do suspect that my 1st house - impatient - Mercury has something to do with it (along with the fact that I didn't waste time starting to talk, as well... )

Then again, maybe I'm barking up the wrong tree and perhaps Mercury has little if anything to do with when we start to talk. In that case I am interested to find what the expertise or experience of all you fellow LL'ers has come up with so I can learn from it!


In the mean time... I hope no one minds that I'll post a chart of my son and transits to see when he might start talking? Just out of curiousity, he'll talk when he's ready to of course, but it would be interesting to be able to compare the chart with the actual event!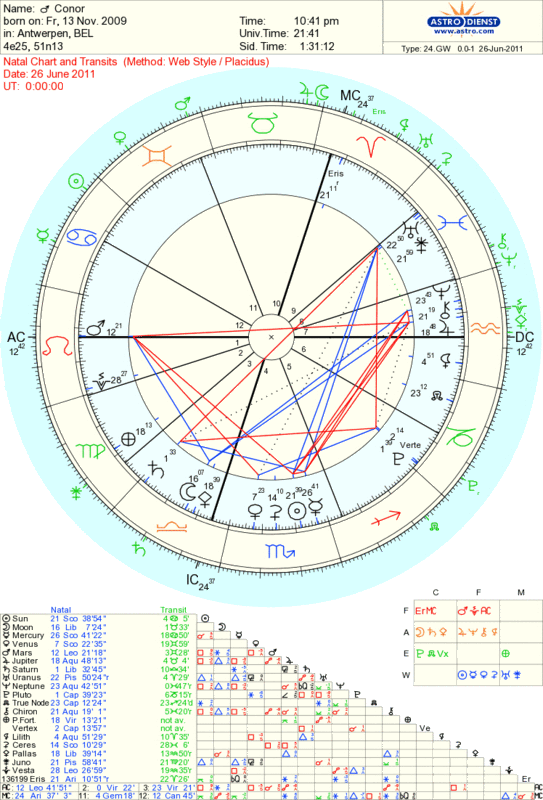 ------------------
[Insert catchy signature here.]
IP: Logged