posted October 19, 2017 11:50 AM



---
No wonder Breitbart is hated by the far left lunatic fringe!

Schweizer: New Reports a 'Huge Vindication' for Breitbart News Reporting on Hillary's Uranium Deal
Dan Riehl
18 Oct 2017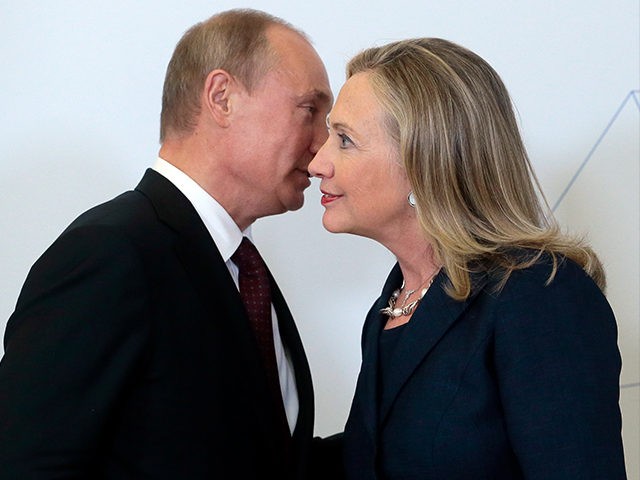 Smile, I won't tell anyone I gave you and Bill $143 million for 20% of US Uranium production.

Clinton Cash author and Breitbart News Senior Editor-at-Large Peter Schweizer joined Breitbart News Daily SiriusXM host Alex Marlow on Wednesday to discuss recent reporting regarding FBI confirmation of Hillary Clinton's allegedly corrupt uranium deal with Russia.
"It's a huge vindication for this story that we've been concerned about. We've talked about at Breitbart. We've reported on it probably more than anybody else.
Schweizer is referencing a new report from John Solomon and Alison Spann in the Hill:

Before the Obama administration approved a controversial deal in 2010 giving Moscow control of a large swath of American uranium, the FBI had gathered substantial evidence that Russian nuclear industry officials were engaged in bribery, kickbacks, extortion and money laundering designed to grow Vladimir Putin's atomic energy business inside the United States, according to government documents and interviews.
Federal agents used a confidential U.S. witness working inside the Russian nuclear industry to gather extensive financial records, make secret recordings and intercept emails as early as 2009 that showed Moscow had compromised an American uranium trucking firm with bribes and kickbacks in violation of the Foreign Corrupt Practices Act, FBI and court documents show.
They also obtained an eyewitness account — backed by documents — indicating Russian nuclear officials had routed millions of dollars to the U.S. designed to benefit former President Bill Clinton's charitable foundation during the time Secretary of State Hillary Clinton served on a government body that provided a favorable decision to Moscow, sources told The Hill.
Schweizer and Breitbart reported extensively and exclusively on the issue in 2016 while Hillary Clinton was running for President. A few of dozens of examples of Breitbart's reporting on the issues can be found here, here, and here.
Added Schweizer, "I've always said and we've always said that this demands an investigation, whether it's a grand jury, whether it's the Justice Department, whether it's a congressional committee. What you have with this new reporting is just fantastic work done by both the Hill and Circa News."
Per a new report:
The Senate Judiciary Committee has begun a corruption probe investigating the Obama administration's approval of the Uranium One deal first brought to light in Clinton Cash, the explosive book by Government Accountability Institute (GAI) President and Breitbart News Senior Editor-at-Large Peter Schweizer.
http://www.breitbart.com/radio/2017/10/18/schweizer-new-reports-huge-vindication-breitbarts-reporting-hillarys-uranium-deal/
IP: Logged