BiBi DeAngelo
Knowflake

Posts: 923
From: Los Angeles, CA, USA
Registered: Apr 2009

posted October 27, 2007 10:28 PM



---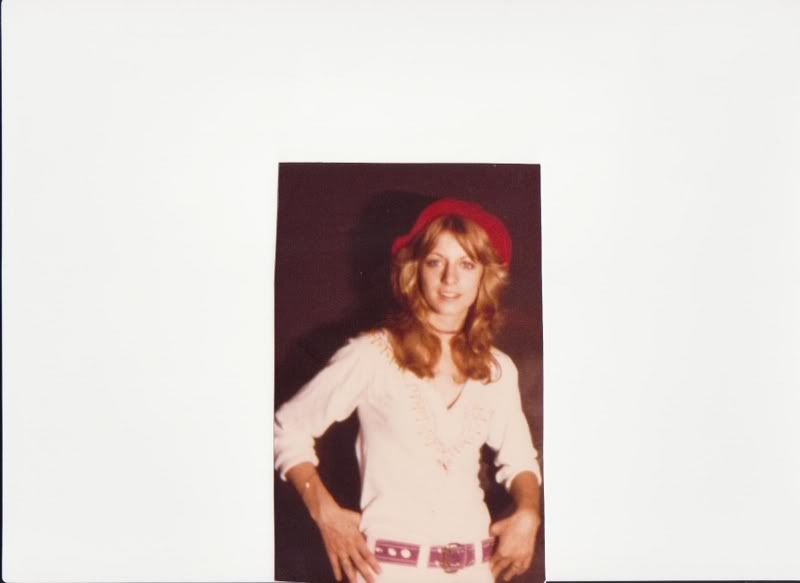 Here is the photo of Sally – Linda Goodman's daughter – as promised in my topic thread (this photo was given to me personally by Linda)….. BiBi DeAngelo
Birth name: Sarah Elizabeth Synder
Stage name: Sarah Stratton
Excerpts from: "Spider Line – Linda's Goodman's Search for Sally"
1. "Sally disappeared after threats against her children's lives were received by Linda Goodman wile she was investigating the boat called "Star Quest", involved with Watergate and many other nefarious activities under President Richard Nixon."
2. "There is excellent cause to believe that Sally is alive, and that the book's revelations of the circumstances causing Sally's involuntary disappearance."
3. While Linda was writing a series of articles for McCall's Magazine, Linda and the Senior Editor, Dalma Heyn, choose the name "Spider Line" for the book. The choice was easy since Dr. Angel (for many years Curator of Physical anthropology for the Smithsonian Institute) told Linda "that in all his years as curator in all thousands, even millions of faces he had studied, he had never once come across the particular "mark" that has appeared in every photograph of Sally, including those taken as a child and blown up." That mark looked like a Spider Line. The other reason "Spider Line" was a great choice was because it suggests the intricate cobweb of conspiracy Linda came across in her search for Sally!
4. Spring of 1973, Sally then 20 years old, graduated from the American Academy of Dramatic Arts, in New York, where she won the "Best Actress" award, presented by Richard Rodgers and Helen Hayes. Within a few weeks Sally was off to begin her career with her new stage name that Linda had suggested because it was a family surname – Sarah Stratton. Sally was hired to play an ingénue leading lady to the Hackmatack Playhouse, a summer theatre in Berwick, Maine.
5. All the letters Sally wrote to Linda and her stepfather Sam "were filled with news, overflowing with optimism of five plays that would begin in late June and end just after Labor Day."
6. Sally returned to New York and took temporary residence with the family of Peter Miner, her former director at the Academy. "Linda's royalties had not been paid, and Linda couldn't assist Sally financially as she desired, which greatly distressed Linda."
7. The police were called "on December 9, 1973, to an apartment because friends of Sally who had stopped by to visit Sally, and had noticed a peculiar and unpleasant odor emanating from Apartment 6 B.
8. Address where Sally's supposed dead body was allegedly found in a dilapidated New York apartment: West 176th Street, Apartment 6 B, New York
Now starts the clues of a Mystery:
1. Police found the remains of a decomposed body of a young female. Nearby, was an 8 page handwritten note, dated December 4th, describing great depression. One autopsy stated death was six days ago. However, other forensic pathologists, after careful study of the autopsy report, later stated that a "partially mummified" body would have to have been dead for a minimum of 3-4 weeks.
2. The autopsy report further stated "that the girl (dead body recovered from the apartment) had drunk a vast quantity of liquor in hours prior to her death, though death itself, the report stated, was a result of a massive overdose of barbiturates. The official verdict: Suicide."
3. December 10th, Sally's birthday, "Sam Goodman was called to the morgue to identify the body as his stepdaughter, Sally Snyder. He was accompanied by Aaron Goldblatt, an old family friend. The body of the young lady was wrapped in a distinctive quilt-comforter, rose colored, which had been a gift to Sally from Linda. A powerful "non-verbal cue", strictly forbidden by morgue regulations, though Sam had no way of knowing that at that time." I don't know about any of you, however, any time I've seen a body at the morgue they are on the pull out slab and if anything a white sheet over the face… not a blanket from the death scene! Sam was haunted by the vision he saw at the morgue. The young lady looked more like either a "West Indian woman" or "a young black woman" with dyed blonde hair. Then latter, one of the 3 police reports filed referred to the body removed from the apartment as that of a black female with red-gold hair!
4. December 21st… Sam returns to Sally's apartment to gather her belongings (took Sam 10 days to obtain the keys to Sally's apartment from the authorities). The visual of Sally's apartment shocked Sam.. the police report had reported "neat, orderly rooms"…Sam witnessed "blood everywhere … crime investigator Cleve Backstar (experienced crime investigator, called the country's foremost polygraph expert, and head of the Becker School of Lie Detection, formerly in New York) said at least 5-6 quarts of blood. The mattress was soaked in blood (bed horizontally placed against bed – see police report below)… the walls were spattered with it, there were large pools of sticky, not quite dried blood on the floor; and the telephone was coated in blood, to which a very large quantity of human hair and tissue adhered, as though the instrument had been used to bludgeon someone's head. The fact that it was long, soft, blonde hair, approximately the same shade of Sally's hair – to the naked eye – made it an anguishing sight for Sam (and equally so, later for Linda)." NOW listen to this! The original police report stated: "no blood, phone perfectly clean, bed in vertical position… quilt Sally was wrapped up in the morgue… was left on bed… police report stated body was placed in a morgue "body bag"." I don't know about all of you… but some FACTS just aren't connecting!
5. Linda couldn't dismiss all the inconsistencies! Could anyone dismiss these many different accounts? Also, Linda "had been searching for a very dear friend who had been missing since July 4th 1973, who had been on the boat Star Quest. Linda had alleged that her friend had been an innocent witness to some crime aboard the Star Quest that was connected with Watergate. Linda also alleged the Star Quest was a floating brothel onto which to lure political opponents, then tape and photograph them in compromising positions. Linda's mind also streamed back to the several threats she'd received against her children's lives while she was investigating the boat (Star Quest), the most recent threats having been made only a couple of weeks prior to the news that Sally "was dead"." This is something Linda and I had in common… My mother's life and my brother's life were threatened when I was working in Washington, D.C. Linda and I knew many of the same people in the Washington area! Ironically, both Linda and I have our "Sun" located in our natal charts in the 12th House!
6. "Although Linda made repeated and insistent requests, Linda was not given a copy of the autopsy report until nearly four months after her first visit to the morgue." When she finally received the final autopsy several facts stood out:
• The report stated the girl in the apartment had drunk herself into a stupor, then swallowed vast quantities of barbiturates (though independently retained forensic pathologists insisted the drugs had to have been injected!). Yet, no liquor, no syringes or needles, no pills, no glasses that might have held liquor, and no bottles of liquor, no bottles that might have held pills were found by the police in the apartment!! [It doesn't take an Einstein moment to figure out.. how is someone suppose to write an eight page note.. and date the note (ha!)… drink herself stone drunk… taken vast quantities of barbiturates.. then what.. get rid of all the evidence and then die??] Question: if you had uncovered all these inconsistencies would you not be doubtful? There is more…..
• The autopsy described "the young girl as 5 foot 3 inches tall.. Weighing 130 lbs. with well developed breasts and moderately long hair – no scalp wounds or injuries" (who got hit by the phone??" For those of you who didn't know Sally "her vital statistics taken from her medical records made shortly before she left for Berwick, Maine to act during the summer were: 5 foot 5 inches tall, 110 lbs. Small breast, and wore her naturally blonde hair cut short to her ear lobes, this is confirmed in photographs taken in October 1973, after the summer stock season." There is still more….
• Police reports concerning removal of the body were conflicting! One police officer described a body "removed on the night of December 9, wearing two- pieced, red pajamas. The second police officer said "body as removed on the night of December 11th, dressed in a green print blouse with puffed sleeves. Then one of the physicians described the body being autopsied, on tape, as wearing a pink nightgown. So who was the body that left several pints of blood on the bed, walls… who was bludgeoned in the head with the telephone?? There is still more…
• The book at the morgue… "When Sam Goodman and Goldblatt approached the receptionist upon their arrival at the morgue, and informed the clerk they were there to identify Sally Synder, they were shown an entry book, and asked "Which Sally Synder?" The first entry: Sally Snyder – white female age 20.. West 176th then two lines below … the initial S. Synder – white female – age 21 – West 176th Street. "Sam and Aaron pointed to the first "Sally Synder" entry, puzzled, and said, "I guess that's the one", dazed and not knowing what to think at that point." This entry book was seen and witnessed by 2 people a number of years later.
• Phone bill that came in after Sally's death indicated that someone used the phone during the time after the police took the body out, and the time Sam Goodman entered the apartment. Did someone use "the blood and hair encrusted telephone to make 2 phone calls to 2 people in Berwick, Maine, both actors in the melodrama during the 1973 summer stock season" that Sally acted with. Why would calls to Sally's friend in the summer theater occur from her apartment after her so called death? Still more…
• The blood on the bed and walls was tested… guess what NOT Sally's blood type? Is this getting really weird by now?? "Professor Ray Neff, of Indiana State University (Toxicologist and recognized expert in pathology, from Indiana State University, formerly Coroner in New Jersey for many years) verified that the blood found in the apartment was not Sally's blood type, and that the hair on the telephone was not Sally's hair, compared with standards of childhood from her baby book." Still more…
• Handwriting experts for the supposed 8 page suicide note Sally wrote… guess what…First part of the so called "suicide note and originals of letters written by Sally that summer of 1973 were said to be forgeries by one of the foremost Questioned Document experts in the country!" (Joseph Moomaw, of Colorado, a leading analyst of questioned documents for authenticity or forgery.) Oh, by the way… this suicide note disappeared from morgue files! Want more…
• David Sikes (one time government agent and investigator for the Army's Criminal Investigation Division, who taught the technique of Witness Recall to the FBI. Also, a former bodyguard of 3 Presidents and Henry Kissenger, "obtained many tapes and some signed statements on paper from the actors and actresses who performed at the Hackmatack Playhouse during the summer stock season of 1973. One discusses Sally being told "her mother (Linda) would be "killed" if Sally returned to New York. All kinds of testimony alleged that when the actors worked at Carleton Guptill many where believing and alleged that the crops were being sprayed with a variant of Agent Orange called C-300. This derivative was supposedly harmless to people, was supposedly beneficial to crops, supposedly enhanced their size and speed of growth, their quality and taste. The young performers at Berwick had a regular diet of these C-300 sprayed crops." [Just FYI… Michael Guptill it was said was appointed by the Department of Agriculture Chief Inspector of all fruits and vegetables leaving the state of Maine.] OK.. now the biggest clue….
• "The day after a body was discovered on West 176th Street, "Sally Synder" was driven to Boston, where she checked into a hotel, stayed a few days, then disappeared. The man who drove Sally there is a nephew of Watergate plumber, Martinez. He showed one of the investigators his phone bill to verify his claim that he had received a collect call from Sally from Boston AFTER the police removed the first body from her apartment!" Might want to read that paragraph again! Ok… now ready to go to Sally might still be a live clue's….
• Linda hired Daniel Hollman (former United States Attorney, who set up for the Justice Department the New York Organized Crime Strike Force and the Government Witness Relocation Program, who worked with James Steinberg on various occasions in connection with these) & Matthew Byrne (legal counsel to the New York Police Department at the time of Sally's disappearance and Hollman's law partner) to research Sally's alleged death! Are you ready? When Hollman and Byrne made a search for the file on Sally, which police witnesses declared in written statements was "more than five inches thick", it had MYSTERIOUSLY VANISHED FROM THE DA'S OFFICE!" Ok… I'll wait and let you re-read that sentence! Yeah, the entire file had mysteriously vanished from the DA's office. Ok, moving right along… "Later, that same former assistant district attorney, out of office, and then in private practice in New Jersey, contacted Linda, told her he believed all she was saying, and offered his help in locating the missing Sally." Yeah.. that's right he wanted to help Linda find her daughter Sally! How rich is that one. "He said he would be in touch with her after he returned from a trip to Tuscon, Arizona". (I know the spelling on Tuscon look strange, however, it's the exact spelling in Linda's Outline of Projected Book. ) He did not contact Linda again. More….
• "In the Spring of 1980, Linda and her investigators received a TIP that Sally was living in Tuscon, Arizona, working in a government underwritten greenhouse, where it was alleged she had undergone a nervous breakdown and had been taken to the University of Arizona hospital. When Linda and her investigators arrived several people of credibility recognized and infallibly identified photo's of Sally, and it was learned she'd been living under a different name, in a run down house on the edge of Tuscon, with SEVERAL former students of the American Academy of Dramatic Arts!"
The photo I'm sharing with this loving forum to "Linda's Life" was given to me from Linda Goodman herself. I took this photo to a radionics specialist to determine if Sally was still alive in 1993… upon Linda's request! The results were that Sally's energies were no longer on the planet……………….. Believe what you may… you're all entitled to your free will choices… I'm just sharing from Linda's "Outline of her Projected Book, entitled: SPIDER LINE, Linda Goodman's Search for Sally".
IP: Logged