posted September 06, 2006 02:45 AM


---
My Karma....


its been such a strange week...strange month too..a couple of em.

A while ago, while looking through Craigslist.org, I came across an add for a free soloflex.

If any of you don't know what a Soloflex is, its the Grandaddy of BOWFLEX, though they are nowhere related.

Soloflex was the first weight resistance machine...you remember it..the kid with the Vinnie Barbarino hair cut, he had the cute little Cockerspaniel and a messy room.

well Bowflex came along, no relation to Soloflex...different company. They used the first model (bodybuilder...the kid with the Cocker spaniel) from Soloflex as their model and advertised, never saying they were different than SF, so everyone assumed they were the same, via the FLEX in the name.

well SF sued BF for 8 million dollars and you can guess who won. Also on the talk of Karma...Bowflex had a massive recall on the bench backs, I guess they would crack in half causing major injuries...I guess when you steal, or use someone elses model and similar name..well you get a big ol recall and lose 8 million in pocket change.

So back to the story...

I call this girl about her "FREE" SF. she tells me I can have it, I just need to pick it up. I go all the way to Provo to get it.

we begin to talk and I find out her brother is a model for Bowflex. This came up because she didnt know what SOLOFLEX was, so I told her it was the grandaddy of BOWLFLEX..no relation respectfully...

I asked her if her brother got big using the BF, and she laughed, saying "heck no, he never used it...ever...he's just a model" this got the old Egyptian mind thinking, And I came up with an idea.

I can't tell you about it, but its neat and you will know about it in a year or so...hopefully.

Well I deassembled it, threw it in the trunk and brought it home. I only had two weight straps and they were 50lbs each. The SF comes with 450lbs of resistance weight straps...these babies are hard material and they can kick a persons butt..they really are hard to move!

Also it didnt have the leg extention nor butterfly extension for upper region, and I needed 300 hundred more pounds to go with it. it looks like the picture below: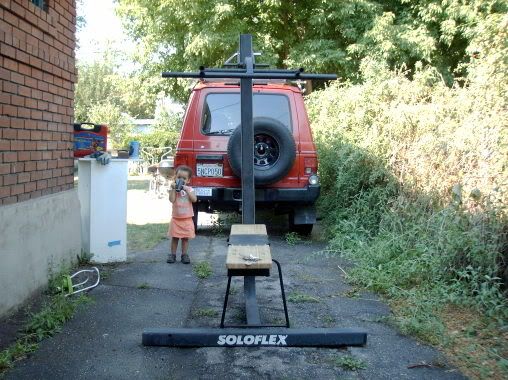 so I thought..well its not bad, all I have to do is get the Leg and Butterfly extensions and I will be okay...oh yeah the other weight straps. So I write Soloflex..the president of SOLOFLEX.
I tell him about my proposal, that it would be in SOLOFLEX's best interest to contribute to the project, for it would surely advance their sales...do I hear back from him...not yet.
I was a little bummed, because it was a great sale, but I guess he's just too busy. Well I searched ebay and such. I found parts, but nothing together and the ones that were one unit...they were in other states and it was pick up only.
I did the next best thing, I put a "WANT" add up. This is basically an ad, asking for something free because you too poor to afford it. Low and Behold I got a bite, a guy here had the weight strap set, he wanted to sell them to me for 50 bucks, otherwise they were off to ebay.
I reminded him that I did say "WANT" which meant i was "BROKE" and that he was better off making money from them on ebay. Well I am sure he did, cause I never heard from him again...lol.
Then this happened....
I was going to erase the "WANT" for the straps, I decided to just take a chance and look in Craigslist search...just to see if someone else was selling a soloflex here in Utah. It had been over a month and there hadn't been another. What were the chances...I mean...HELL ITS UTAH, there wouldnt be any!
Well "Jimmy got a cricket and so do I!" there was a guy selling a soloflex with a leg extension for 75 dollars!
I didnt have 75 dollars though.
And i thought.."man its going to be old and used like my free one....but it will have the leg extension and all i have to do is search a little more for the Butterfly piece and the weight straps...you can do it kelly..you can do it Smeagol...."
Well I decided to not call, I mean I have bills to pay at home...and I have no money!!! So why put myself in more debt than I am right now...right....right?
A week and half go by...I find myself looking again at this soloflex for 75 dollars. I call the guy sunday...I leave a message saying I am interested in the machine. he calls me back and leaves a message.
The message said "if your interested in the machine, you JUST come by and get it"
COME BY AND get it...?
I call him back, "sir...I am confused as Data talking to Captain Picard about why Rikers shaved face is as smooth as a androids butt, did you say I could COME BY and GET IT...are you giving this to me?"
he stated, "sure, its yours, just come on by, i will put it in the driveway for you"
"be there in 15 minutes" WARP SPEED...ENGAGE!!!!!
now this guy never told me the address. he just said, "go north. turn left, past harvard, yale and turn right on "POTATOE" go up the hill past the WARD (mormon church) I am on the left, its a yellow house with a red roof.'
Well of course i get lost, cause i am so excited to get a piece of the machine...everything was coming together so good...just a couple of more pieces and "my precious...." I mean my machine would be done.
I go up the hill, I dont see the ward, then i see it, but i see two houses..yellow with red roofs, and though they were on the right side of the street, I started to feel, "maybe this guy saw my add "WANTING The free weight straps", and hes playing a trick on me.....
People this is what Dave Chapelle calls "BLACK MAN PARANOIA"
yes I was paranoid...even though he didn't know I was a man of color...or maybe he did...
I pick up speed, push the clutch in, change gear.
As I am climbing the hill, I look to my left and there is my SOLOFLEX sitting on this guys driveway...I zoom up and make a u-turn and get to the house.
this little man comes out and we talk. I thank him for the "PRECIOUS..." I mean machine and ask him if i can give him something later. he insist its DESTINY or as I say it...KARMA.
See...the guy he bought it from...his name was KELLY too. so he just thought it was destined to come to me.
I got a another SOLOFLEX for FREE!!!!
isnt that great...wanna see a picture of her....MY NEW PRECIOUS....
look:

[/IMG]]http://i7.photobucket.com/albums/y256/thorboy/3637abb5.jpg[/IMG]
OH CRAP..I FORGOT TO TELL YOU...
when I drove up and saw it sitting on the driveway....it was complete
IT WAS THE WHOLE DAng MACHINE!!!!
I FELT LIKE STOPPING THE CAR AND KISSING THE GUY LIKE HE WAS BOB BARKER!!! I WAS ON "THE PRICE IS RIGHT" I WAS "COMING ON DOWNNNNNN!"
so as you see, i have the Butterfly attachment, the leg extensions and a box of weight straps..I got it all.
Now I have been thinking about this project, dreaming about it. telling my closest friends about it. and I believe that KARMA and EARL helped me out.
Damn I feel lucky!!
now you all know the story of my Soloflex machines, so when I finish that book, you can say, "I remember when his paranoid butt was talking about that thing on myspace!!!"

IP: Logged