posted March 27, 2017 07:47 PM



---
Has anyone experience with this?


Ghataka means an experience of an extreme negative sense, both mentally as well as physically.

So, you can apply this to;
A) Transits
B) horoscope matching (synastry)


Ghataka can play out in 5 dimensions relating to Quality of dangers. The 5 dimensions of Ghataka are;

- Moon Ghataka (reputation)
- Tithi Ghataka (mentally)
- Day Ghataka (physically)
- Nakshatra Gathaka (emotionally)
- Lagna Gathaka (physically)


Below the tables. Basically it's like this;
I'm a Libra Moon (sideral) so I have to avoid (in synastry OR in transit);
- Sag Moon
- Rikta Tithi
- Thursday
- Shatabhisaj nakshatra
- Virgo Asc for the same gender / Pisces Asc for the opposite gender.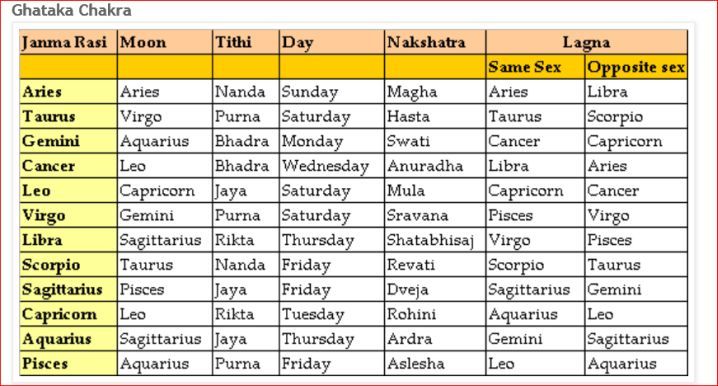 You can see under which Tithi and at which day of the week you were born with this calculator;
http://www.tamilsonline.com/tithi-calculator.aspx

http://varahamihira.blogspot.nl/2004/10/ghataka-chakra.html
IP: Logged